Questions?
Austin Energy
Customer Energy Solutions
4815 Mueller Blvd.
Austin, TX 78723-3573
512-482-5346
512-972-8350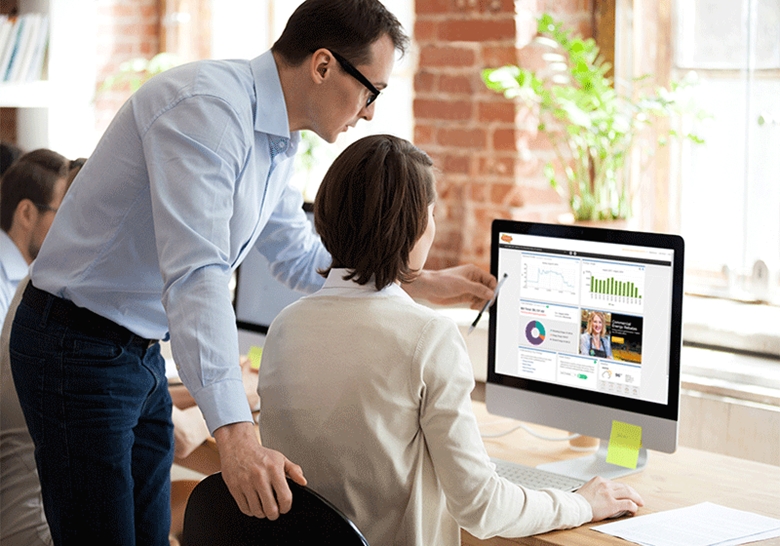 Get detailed reporting and load profiling for your complex business operations or multiple commercial accounts.
Energy Profiler Online is Austin Energy's free, easy-to-use cloud-based service that allows you to monitor and analyze your energy usage patterns. You can use Energy Profiler Online to get a detailed, accurate picture of your company's energy use. It can help you identify opportunities to reduce your business's energy consumption, increase efficiency, and save money.
How Energy Profiler Online Works
Energy Profiler Online logs your energy use data every 15 minutes, 24 hours a day, 7 days a week. It then presents your energy and demand usage in easy-to-view graphs, charts, tables, and reports. The data is posted usually within 24 hours of the actual usage.
With Energy Profiler Online, you can:
Identify peak loads and analyze opportunities to reduce and shift them
Discover and correct a low power factor
Recognize unusual or unnecessary loads
Inform operations staff to changes in equipment usage
Identify high night and weekend usage
Easily identify other energy inefficiencies
A Solution to Fit Any Company
Austin Energy offers two product packages to meet your needs. Both are available at no charge to our commercial customers, and both provide secure access to your business's energy usage data.
Energy Profiler Online Essentials is designed for customers who do not manage multiple sites or accounts. It provides an executive-style dashboard for users who want a clear understanding of their company's energy consumption and associated costs.
Energy Profiler Online Professional is optimized for customers who track multiple accounts or multiple facilities. It provides a simple, preconfigured setup, but also gives advanced users greater flexibility to customize a dashboard for more complex business operations.
| | | |
| --- | --- | --- |
| Features | Essentials | Professional |
| Secure access | ✓ | ✓ |
| Auto password recovery | ✓ | ✓ |
| Access daily energy usage data | ✓ | ✓ |
| Summarize stats and generate reports for total energy use, peak demand, power factor, load factor, weekday vs. weekend | ✓ | ✓ |
| Monitor solar PV production | ✓ | ✓ |
| Mobile Device Optimized | ✓ | |
| Simple to use preconfigured dashboards | ✓ | |
| Configure auto-generated reports | | ✓ |
| Create personalized online dashboard for your most important reports | | ✓ |
| Compare rate options | | ✓ |
| View group accounts | | ✓ |
| Compare energy use between multiple sites | | ✓ |
| View historical comparison graphs | | ✓ |
| Set maximum demand alerts | | ✓ |
| Estimate energy costs in advance of billing | | ✓ |
| View energy use in relation to temperature and humidity of units of production | | ✓ |
On-Site Equipment and Installation Requirements
After you select the Energy Profiler Online package that best meets your needs, Austin Energy will verify your meter's current interval data compatibility and set up a secure user account for you to monitor your energy usage.
If your current meter is not compatible with Energy Profiler Online, you may request a meter upgrade. This upgrade will be scheduled with personnel at your site(s) and may require a brief outage. Once the interval meter is installed, you can securely access your company's information on the Web or mobile device and start actively managing your company's energy load.
Sign Up Today
Your Key Account Manager can answer any product questions and help you sign up. If you don't have an assigned Key Account Manager, email Commercial Customer Care for assistance. Please include your company name and phone number, and account number if that information is available.
Already Registered?
Log in to Energy Profiler Online
If not, contact your Key Account Manager or email Commercial Customer Care.
Did You Know?
When you use Energy Profiler Online, you can also download your Green Button Data as well as Green Button Connect My Data, which can help you better understand your energy usage and take action towards savings. Visit Green Button Data for more information.

For deeper analysis, you can also download your energy consumption data to ENERGY STAR® Portfolio Manager.
Date last reviewed or modified:
05/26/2022