Questions?
Austin Energy
Customer Energy Solutions
4815 Mueller Blvd.
Austin, TX 78723-3573
512-482-5346
512-972-8350

Save Money & Energy
Saving energy and money go hand-in-hand. We can all contribute to reducing Austin's energy demand by making simple lifestyle changes and energy-efficient home improvements. When demand decreases, we all save. Austin Energy is committed to helping our customers achieve the greatest savings possible.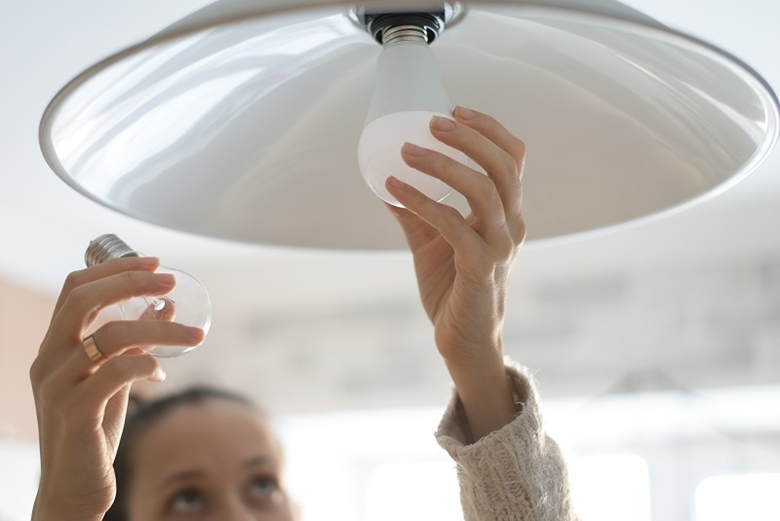 We offer rebates to replace traditional lighting with energy-efficient fixtures throughout your rental units. Our rebates cover a variety of lighting technologies and energy efficiency improvements installed in residential and common areas to benefit the entire community.
Limited Time Bonus Offer!
Multifamily properties are now eligible for an additional bonus of up to 20% over current rebate levels, for a total incentive of up to 100% of the project cost.
Multifamily income qualified properties – normally eligible for an incentive of up to 100% of the cost of energy efficiency measures – may now qualify for a bonus of 20% on approved out-of-pocket expenses not normally covered by rebates.
Installation must be complete by December 31, 2023.
Lighting typically makes up 20% to 40% of your electric bill. Energy-efficient lighting uses less energy and lasts longer than traditional lamps.
Energy-efficient light fixtures can help your residents save up to 75% on lighting costs. They also provide superior lighting quality.
A lighting upgrade covers the retrofit of existing Incandescent or CFL lighting with high efficiency LEDs. A traditional lamp uses metal electrode (incandescent) or a tube filled with gas (CFL) to generate light. LEDs use silicon-based diodes (semiconductors) to generate light. Traditional lamps consume higher power relative to LEDs for similar lumens output.
Replacing traditional lamps with LEDs reduces the overall electric consumption.
Financing is Available
Affordable, long-term financing is available to cover the cost for energy efficiency, water conservation, and onsite generation technologies.
Program Requirements
Specific Requirements
Only interior lighting is eligible, exterior perimeter lighting and parking lot lighting are not eligible for rebate unless required to be on 24/7 for safety egress.
Traditional bulbs must be replaced with high efficiency Energy Star LED lights.
All lamps/fixtures must be UL listed
Installed equipment must meet the following conditions. The wattage savings for each bulb type will be calculated based on a property average for that bulb:
A Lamp: Max wattage for replacement bulb is 10W and must save 45W
Candelabra: Max wattage for replacement bulb is 7W and must save 33W
Spot/Flood: Max wattage for replacement bulb is 16W and must save 40W
Linear Fluorescent: Max wattage for replacement bulb is 12W; minimum 20W savings
Recommended minimum Lumens is 800 lumens for A bulbs, 325 lumens for candelabra, 1800 lumens for T8
Recommended Kelvin is between 2700K-3500K.
Manufacturer warranty for all bulbs must be at least 25,000 hours. The contractor will train the property management on how to receive replacement bulbs from the manufacturer
Contractors are responsible for recycling of old fixtures/lamps.
Comply with ECAD to Qualify for Rebate
If your multifamily property is 10 years or older and located within the Austin city limits, you must be in compliance with the Energy Conservation Audit and Disclosure (ECAD) ordinance before receiving a rebate check. ECAD promotes energy efficiency by identifying potential energy savings for your property.
Properties that have not completed an ECAD audit are eligible to receive a rebate (capped at $2,500) to cover the audit cost. Get ECAD audit rebate details
Getting Started
Provide your contact information. We have streamlined our process to get you started quickly!
Application
An Austin Energy representative will contact you to collect information about your multifamily community and determine rebate eligibility.
We will provide trained staff to help complete and submit the application.
Interested?
We need to assess your property or multifamily community to determine rebate eligibility.
Once your application has been accepted, a participating contractor will schedule a site visit to develop and review the scope of work with you.
Installation
Austin Energy will issue a Letter of Intent (LOI) and the participating contractor will have 120 days to complete the installation.
Austin Energy staff will conduct real time inspections to keep the project on time and ensure a quality project.
Final Inspection
An Austin Energy Program Coordinator will schedule a final inspection with the property manager or owner to confirm that all work was performed to expectations.
The rebate will be paid to the contractor if authorized by the account holder.
Contact Austin Energy for More Information
Call 512-482-5346 or email Multifamily Rebates if you have any questions about our rebates.
Participating Contractor Recommended
Austin Energy recommends that you use an Austin Energy participating contractor to install this measure. Participating contractors meet Austin Energy requirements for licensure, insurance, workmanship, and equipment.
The selection of a Participating Contractor to perform work is the sole decision of the property owner and/or authorized lessee/occupant. Inclusion in this directory does not represent an endorsement by Austin Energy of any product, individual, or company. No work is guaranteed or warranty expressed or implied, and Austin Energy makes no guarantees as to the quality, cost, or effectiveness of the products provided and work performed by the contractor, employees, or subcontractors.
Disclaimer
Rebates are paid only after Austin Energy has approved the rebate application and conducted any necessary site inspections. All installed equipment must comply with local, state, and federal regulations, including building code and permitting requirements. Offerings, program requirements, and rebate levels are subject to change without notice. Funding is limited and available on a first-come, first-served basis. The maximum combined rebate is $300,000 per customer site per fiscal year (October through September).
Date last reviewed or modified:
12/01/2022